Moderator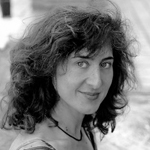 Varda Bar-Kar
Filmmaker / TV Director / NFMLA Board Member
---
Greg Sirota is a Film and TV Editor with over 20 years of experience, editing award-winning scripted and unscripted TV, features, and short films.
Most recently, Greg has been with Ryan Murphy Television as an editor on the TV shows 9-1-1 and 9-1-1: Lone Star on Fox, and Emmy and Golden Globe-winning Pose on FX. Other recent credits include The Crossing on ABC and SyFy's Z Nation. Previously, he worked with George Lucas at Lucasfilm as a writer, producer and editor on documentary features for Paramount and PBS.
Greg is a graduate of the University of Pennsylvania and received his MFA in Directing and Editing from NYU's Tisch School of the Arts.
Our Moderator is NFMLA Board Member Varda Bar-Kar, award-winning director of the feature music documentary Big Voice (Netflix, Amazon Prime, Hulu) and the upcoming documentary Fandango at the Wall. Varda also directed for Ryan Murphy's hit Fox Show 9-1-1 after she participated in his Half Foundation Program diversity initiative.
We'll find out how Greg came to be a successful editor of TV and film, and what he believes are the key elements in shooting a TV show or film in order to have a successful cut. He'll talk about how he collaborates with directors and what it's like having different director on each episode. He'll detail what techniques he uses to create a sense of flow and continuity. He'll talk about the differences between working with a seasoned director and a first-time director, and what he's learned from these experiences. Finally, he will touch upon the hierarchy in the world of TV post-production.
Once you purchase a ticket, we will send you an email with ZOOM login information to the April 16th, NFMLA Interview Series. If you don't already have the ZOOM APP you can download it on your computer or phone. Visit https://zoom.us/download to find "Zoom Mobile Apps" and download it. Zoom can be downloaded from the Apple App Store or Google Play.
If you are a current Annual Member of NFMLA, please email andrew@nfmla.org to receive the discounted member's link for 50% off. If you are not an Annual Member of NFMLA, you can become one here: https://www.newfilmmakersla.com/membership/
After joining as an Annual Member of NFMLA, you can email andrew@nfmla.org to receive the discounted member's ticket link for 50% off.
Event has ended.