Moderator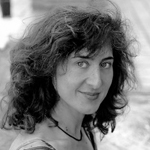 Varda Bar-Kar
Filmmaker / TV Director / NFMLA Board Member
---
Lesli Linka Glatter is a director of film, network, cable and premium cable television drama. She is slated to direct all eight episodes of Amazon Prime's new series The Bankers Wife (IndieWire article about this). Lesli's TV work includes Homeland (2011), The Newsroom (2012), The Walking Dead (2010), Justified (2010), Ray Donovan (2013), Masters of Sex (2013), Nashville (2012), Boss (2011), True Blood (2008), Mad Men (2007), The Good Wife (2009), Weeds (2005), House (2004), Heroes (2006), The West Wing (1999), NYPD Blue (1993), ER (1994), Freaks and Geeks (1999) and many more.
Furthermore, Lesli began her directing career through the American Film Institute's Directing Workshop for Women, in which her film Tales of Meeting and Parting was nominated for an Oscar. Lesli has received 7 Emmy nominations, 7 Directors Guild Award nominations, winning twice for Mad Men and Homeland, as well as a Humanitus Award nomination for HBO's State of Emergency.
Lesli serves as the 1st Vice President of the Directors Guild of America, a member of the Executive Committee of the Directors Branch of The Academy of Motion Picture Arts and Sciences and is also an adviser at the Sundance Institute's Director's Lab. Just recently, she received an Honorary Degree from the American Film Institute.
Our Moderator for this interview is NFMLA Board Member Varda Bar-Kar, director of the feature music documentary Big Voice (Netflix, Amazon Prime, Hulu) and the upcoming documentary Fandango at the Wall. Varda also participated in the Half Foundation Program prior to directing for Ryan Murphy's hit Fox Show 9-1-1.
Varda's discussion with Lesli will focus on her rise to being one of the most accomplished TV directors of our time. She will share her approach to television directing from the moment she receives the script to the delivery of her director's cut. She will also discuss the most significant challenges she has faced and how she overcame them. In an effort to expand the diversity of the directing pool in television production, Lesli spearheaded the launch of NBC's Female Forward Program. Participants will be invited to ask Lesli questions and leave comments during this engaging discussion about television directing.
Once you purchase a ticket, we will send you an email with a dedicated ZOOM LINK to the April 9th, NFMLA Interview Series. If you don't already have the ZOOM APP you can download it on your computer or phone. Visit https://zoom.us/download to find "Zoom Mobile Apps" and download it. Zoom can be downloaded from the Apple App Store or Google Play.