Moderator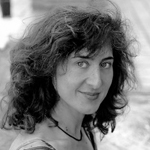 Varda Bar-Kar
Filmmaker / TV Director / NFMLA Board Member
---
Ondi is a filmmaker and the founder/CEO of Interloper Films, a renowned production company. As the only two-time recipient of Sundance Film Festival's Grand Jury Prize for her documentaries Dig! and We Live in Public, Ondi has established herself as one of the great documentary filmmakers of this generation.
Other award-winning features include The Nature of the Beast, Join Us, Cool It and Brand: A Second Coming. Besides documentaries, Ondi has also produced and directed music videos for The Dandy Warhols, The Vines, Paul Westerberg, Lucinda Williams, Vanessa Carlton, The Jonas Brothers, Run DMC and many more. In 1999, Ondi was Grammy-nominated for Best Long Form Music Video for an EPK she directed about the band Fastball. In 2017, Ondi created and produced the critically-acclaimed 10-hour nonfiction series Jungletown, which is about the building of "the world's most sustainable town" for Viceland.
In addition, Ondi is a member of several prestigious groups/organizations in the industry, including the Academy of Motion Picture Arts Sciences (AMPAS), Directors Guild of America (DGA), Producers Guild of American (PGA), the International Documentary Association (IDA), Film Fatales, Women in Film (WIF) and many more!
Our Moderator is NFMLA Board Member Varda Bar-Kar, award-winning director of the feature music documentary Big Voice (Netflix, Amazon Prime, Hulu) and the upcoming documentary Fandango at the Wall. Varda also directed for Ryan Murphy's hit Fox Show 9-1-1 after she participated in his Half Foundation Program diversity initiative.
Once you purchase a ticket, we will send you an email with ZOOM login information to the April 16th, NFMLA Interview Series. If you don't already have the ZOOM APP you can download it on your computer or phone. Visit https://zoom.us/download to find "Zoom Mobile Apps" and download it. Zoom can be downloaded from the Apple App Store or Google Play.
If you are a current Annual Member of NFMLA, please email andrew@nfmla.org to receive the discounted member's link for 50% off. If you are not an Annual Member of NFMLA, you can become one here: https://www.newfilmmakersla.com/membership/
After joining as an Annual Member of NFMLA, you can email andrew@nfmla.org to receive the discounted member's ticket link for 50% off.