Moderator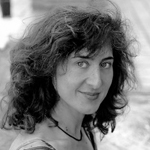 Varda Bar-Kar
Filmmaker / TV Director / NFMLA Board Member
---
Rachel Goldberg is an award-winning filmmaker whose directing highlights include Raising Dion, Mayans, MC, American Gods and American Horror Story: Cult (Guest starring Lena Dunham). She has garnered over 20 awards for her work, many for the film, Muted, which sold to HBO. She is currently attached to direct Rise and Shine: The Boys Choir of Harlem and is in pre-production for a straight-to-series pilot for Netflix.
As a writer, Rachel has written for Screen Gems and Mar Vista Entertainment. Her screenplay, Transformation Awaits, was recognized by Film Independent, Sundance and the Academy's Nicholl Fellowship. As a director, Rachel has been supported by Ryan Murphy's HALF Program, AFI's Directing Workshop for Women, Sony Pictures Diverse Directors Program, Film Independent's Project Involve, the Fox Global Directors Program and many more. She currently serves on the Advisory Board of two non-profits: the Unusual Suspects Theater Company and the Alliance of Women Directors.
You can learn more about her on her website.
Our Moderator is NFMLA Board Member Varda Bar-Kar, award-winning director of the feature music documentary Big Voice (Netflix, Amazon Prime, Hulu) and the upcoming documentary Fandango at the Wall. Varda also directed for Ryan Murphy's hit Fox Show 9-1-1 after she participated in his Half Foundation Program diversity initiative.
We'll ask Rachel about her leap from independent filmmaker to TV director. She'll talk about the various diversity programs she participated in and how they contributed to her career trajectory. We'll ask Rachel about the differences between directing independent films and television shows. She'll discuss the the unique challenges she's faced as an emerging TV director and how she overcame those obstacles. We'll find out from Rachel how she prepares to direct a TV episode and what her day looks like from the moment she arrives on the set to the moment she calls wrap.
Once you purchase a ticket, we will send you an email with ZOOM login information to the April 16th, NFMLA Interview Series. If you don't already have the ZOOM APP you can download it on your computer or phone. Visit https://zoom.us/download to find "Zoom Mobile Apps" and download it. Zoom can be downloaded from the Apple App Store or Google Play.
If you are a current Annual Member of NFMLA, please email andrew@nfmla.org to receive the discounted member's link for 50% off. If you are not an Annual Member of NFMLA, you can become one here: https://www.newfilmmakersla.com/membership/
After joining as an Annual Member of NFMLA, you can email andrew@nfmla.org to receive the discounted member's ticket link for 50% off.
Event has ended.