Moderator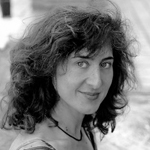 Varda Bar-Kar
Filmmaker / TV Director / NFMLA Board Member
---
Rocky Morton is one of the most decorated directors in global advertising, turning out award-winning work for diverse clients and major brands. Along with creating award-winning commercials, Rocky develops personal films, TV and Art projects. Rocky studied film, animation, photography and painting at West Surrey College of Art and Design in the UK.
After creating the hit TV show Max Headroom, Morton then went on to co-direct two feature films, allowed him to form MJZ (Morton Jankel Zander) with partner David Zander, one of the top commercial production companies in the world.
After working on The Wall, an animated film for The Pink Floyd, he and his then partner Annabel Jankel went on the start a production company in London to make Music Videos, creating break out films for The Talking Heads, Tom Tom Club, George Harrison, Miles Davis, Sex Pistols, Gravity Kills and many others.
His awards include the Cannes Lions, British D&AD, Clios, the One Show award and an Emmy, also, twice nominated as best director by the Director's Guild of America (DGA). Morton's work can be found today in the permanent collection of the Museum of Modern Art (MOMA) in New York City and at the Victoria & Albert (V&A) museum in London. His short film The M Word written by Alan Ball was an Official Sundance selection in the Sundance Film Festival.
Our Moderator is NFMLA Board Member Varda Bar-Kar, award-winning director of the feature music documentary Big Voice (Netflix, Amazon Prime, Hulu) and the upcoming documentary Fandango at the Wall. Varda also directed for Ryan Murphy's hit Fox Show 9-1-1 after she participated in his Half Foundation Program diversity initiative.
We will discuss Rocky Morton's rise from an English punk rocker to being an "out of the box" and a highly innovative director in the music video and commercial industry. Producers and directors of commercials face the challenge of telling a compelling story in thirty seconds, and we'll find out from Rocky how he does it. What are his biggest challenges? What is his creative process? How does he keep coming up with new and fresh ideas? How does he foster successful working relationships with advertising agencies and his clients? And what does he see as the future of the commercial world? Finally, we will discuss what it was like directing the Super Mario Brothers movie.
Once you purchase a ticket, we will send you an email with ZOOM login information to the April 16th, NFMLA Interview Series. If you don't already have the ZOOM APP you can download it on your computer or phone. Visit https://zoom.us/download to find "Zoom Mobile Apps" and download it. Zoom can be downloaded from the Apple App Store or Google Play.
If you are a current Annual Member of NFMLA, please email andrew@nfmla.org to receive the discounted member's link for 50% off. If you are not an Annual Member of NFMLA, you can become one here: https://www.newfilmmakersla.com/membership/
After joining as an Annual Member of NFMLA, you can email andrew@nfmla.org to receive the discounted member's ticket link for 50% off.
Event has ended.