Moderator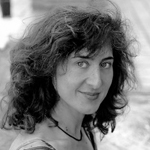 Varda Bar-Kar
Filmmaker / TV Director / NFMLA Board Member
---
Scott Ferguson is a two-time Emmy Award and Golden Globe winning film and television producer. He has worked with renowned directors, such as Jim Jarmusch, Stephen Frears, Jay Roach, James Mangold, Ryan Murphy and Lisa Cholodenko, as well as leading television showrunners Daniel Futterman and Jesse Armstrong. He has also worked with Academy Award winners Milos Forman, Robert Benton, Sydney Pollack, Barry Levinson, Steve Zaillian and Ang Lee.
Scott is a graduate of Cornell University and Columbia University's MFA program. Scott is currently serving as Executive Producer of HBO's series Succession, for which has been awarded the Golden Globe, Critics Choice, and Producers Guild Awards for Best Television Drama in 2020.
Our Moderator is NFMLA Board Member Varda Bar-Kar, award-winning director of the feature music documentary Big Voice (Netflix, Amazon Prime, Hulu) and the upcoming documentary Fandango at the Wall. Varda also directed for Ryan Murphy's hit Fox Show 9-1-1 after she participated in his Half Foundation Program diversity initiative.
Once you purchase a ticket, we will send you an email with ZOOM login information to the April 16th, NFMLA Interview Series. If you don't already have the ZOOM APP you can download it on your computer or phone. Visit https://zoom.us/download to find "Zoom Mobile Apps" and download it. Zoom can be downloaded from the Apple App Store or Google Play.
If you are a current Annual Member of NFMLA, please email andrew@nfmla.org to receive the discounted member's link for 50% off. If you are not an Annual Member of NFMLA, you can become one here: https://www.newfilmmakersla.com/membership/
After joining as an Annual Member of NFMLA, you can email andrew@nfmla.org to receive the discounted member's ticket link for 50% off.