---
Join NewFilmmakers Los Angeles (NFMLA) for an engaging conversation with Anthony Sparks, talented writer/producer and former showrunner on Ava Duvernay's Queen Sugar on OWN. We will discuss Anthony's work as former showrunner on Queen Sugar, his passion for education and the arts, the television industry today, and his career in writing, producing, and acting.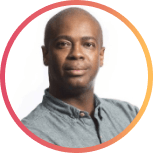 About Anthony Sparks:
Writer. Producer. Scholar. Showrunner.
There are two passions that dominate the professional and personal life of Anthony Sparks: Arts/Entertainment and Education.
Originally from the South Side of Chicago, Anthony began his career as a classically trained stage actor based in New York City. After several years of performing in "Stomp", on Broadway tours, off-Broadway, and in classical roles in regional theaters around the country, he transitioned from performing and playwriting to television drama writing and producing– while also beginning and completing doctoral work in American Studies & Ethnicity at USC, the University of Southern California.
He continues to write, produce, and develop shows in the arts and entertainment industry. He has also authored published articles and essays and is committed to teaching, mentoring, and consulting whenever he can.
Anthony has received several industry and academic fellowships (ABC/Disney, Warner Bros., USC/ Anna Bing, etc.) and has been nominated for the NAACP Image Award for Outstanding Writing in Television Drama. Currently, he is excited to serve as the longtime Showrunner & Executive Producer on the critically acclaimed television drama "Queen Sugar" (created by Ava DuVernay and Executive Produced by DuVernay and Oprah Winfrey for OWN). Anthony has been with "Queen Sugar" as a writer & producer since the beginning of the series.
Anthony also recently signed a first look deal with Blumhouse Television & Films. Together, Anthony and Blumhouse are developing several television drama series, the first of which ("CHOIR") sold in a competitive situation to Disney+ in 2020-21.
Recently, Sparks received the 2020 Television Academy Honors Award for his work on "Queen Sugar" as writer, showrunner, and executive producer. Sparks has been nominated for four NAACP Image Awards for writing and producing in the last 12 years. In 2017 and 2018, he was nominated for his literary work as the co-editor and author of the book "Running the Long Race in Gifted Education." He was also nominated for his work as a writer/producer on the OWN/Warner Bros. television drama "Queen Sugar."
Once you purchase a ticket, we will send you an email with ZOOM link. If you don't already have the ZOOM APP you can download it on your computer or phone.
If you are a current Annual Member of NFMLA, please email info@nfmla.org to receive a complimentary ticket to this event. If you are not an Annual Member of NFMLA, you can become one here: https://www.newfilmmakersla.com/membership/
After joining as an Annual Member of NFMLA, you can email info@nfmla.org to receive your complimentary ticket.