Join NewFilmmakers Los Angeles (NFMLA) for a conversation with Brownstone Productions about their new comedy feature film Bottoms, which opened in theaters nationwide this past August. We will discuss the film's development and how the project came together for production, as well as the film's success and the comedy film landscape in the industry overall. This panel features Alison Small, Head of Film at Brownstone Productions.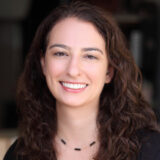 Alison Small Head of Film, Brownstone Productions
About Alison Small, Head of Film at Brownstone Productions:
Alison is a Head of Film at Elizabeth Banks' Brownstone Productions, where she oversees all development and production for the Universal-based shingle. Alison recently produced the teen sex comedy "Bottoms" for MGM's Orion Pictures, which was both critically acclaimed and a box office success. The movie is currently the best-reviewed comedy of the year and has been called "a masterpiece" and "an instant classic." Alison also executive produced this year's
hit horror-comedy "Cocaine Bear."
Alison is currently developing films with Universal, DreamWorks Animation, Columbia Pictures, Amazon, Disney, and Focus Features, in addition to various independently-financed films. Brownstone is best known for the global hit "Pitch Perfect" franchise.
Previously, Alison was Vice President of Production at Paramount Pictures, where she oversaw the movies "Nebraska," "True Grit," "World War Z," "Star Trek Into Darkness," "Jack Reacher" and "Anchorman: The Legend Continues" among others.
Alison has been working in the film and television business since 2004, when started her career working in television under prolific producer Greg Berlanti. She is from Lancaster, PA and attended Washington University in St. Louis.
IMPORTANT DETAILS:
This panel will take place virtually over ZOOM. Ticket purchasers will receive a ZOOM link to this panel 2 hours before the published start time. If you don't already have the ZOOM app, please make sure to download on your device before the panel start time.
If you purchase a ticket for our October Festival event prior to the date of this panel, you will also receive admission to this virtual panel, included as part of your pass.
If you are a current Annual Member of NFMLA, please email info@nfmla.org to receive a complimentary ticket to this panel. If you are not an Annual Member of NFMLA and would like to join, you can become a member here.
Event has ended.