Join NewFilmmakers Los Angeles (NFMLA) for a conversation/workshop with Bri Castellini, filmmaker and indie film/crowdfunding educator. We will discuss how to get started and how to navigate crowdfunding for your film project! Focus will include designing the individual aspects of your campaign and common misconceptions, to the ins and outs of building a team and an outreach plan to match.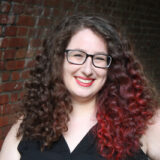 Bri Castellini Educator/Filmmaker
About Bri Castellini:
Bri Castellini is an independent film and screenwriting consultant and a subject matter expert in arts crowdfunding, indie filmmaking, film festivals, podcasting, and the USA television show Burn Notice. As a filmmaker herself she's known for her short film Ace and Anxious (writer/director, 160k+ views on YouTube) and for her podcast Breaking Out of Breaking In. She personally helped launch over $25 million dollars in crowdfunding campaigns with an 85% success rate while she was the Manager of Creator Success at the artist crowdfunding platform Seed&Spark, and she has spoken at over 200 events and festivals virtually and in person on the subjects previously listed. Full work history can be found on her website BriCastellini.com
IMPORTANT DETAILS:
This panel will take place virtually over ZOOM. Ticket purchasers will receive a ZOOM link to this panel 2 hours before the published start time. If you don't already have the ZOOM app, please make sure to download on your device before the panel start time.
If you purchase a ticket for our October Festival event prior to the date of this panel, you will also receive admission to this virtual panel, included as part of your pass.
If you are a current Annual Member of NFMLA, please email info@nfmla.org to receive a complimentary ticket to this panel. If you are not an Annual Member of NFMLA and would like to join, you can become a member here.
Event has ended.