Join NewFilmmakers Los Angeles (NFMLA) for a conversation with Nic Cha Kim, Senior Producer for PBS SoCal and KCET. We will discuss the public media landscape with relation to documentary, opportunities in documentary/unscripted television and film in public media, as well as his recent work and his focus on diversity, inclusion, and representation in arts programming and journalism.
Nic will focus in particular on recent episodes of Artbound, which center Asian American artists and cultural movements.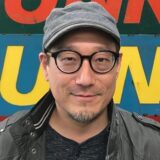 Nic Cha Kim PBS SoCal / KCET
About Nic Cha Kim:
Nic Cha Kim is a Senior Producer of Arts & Culture for PBS SoCal and KCET where he produces the award-winning local arts and culture television series Artbound and develops arts programming for public media. Prior to joining PBS SoCal and KCET, Nic reported for SoCal Connected on KCET and worked as a multimedia journalist for Spectrum News 1 and Free Speech TV.
A native Angeleno, Nic has lived in East L.A, Westlake, and the San Gabriel Valley, but considers Downtown L.A. his home base where he previously owned a video art gallery and co-founded the creative district Gallery Row. Passionate about telling stories about arts and culture in L.A., Nic enjoys connecting with artists and learning about their creative processes.
Nic has won four L.A. Emmy awards for his journalism and was named the 2018 "Television Journalist of the Year" by the L.A. Press Club. Past accolades also include Golden Mikes, SoCal Journalism Awards, and National Arts & Entertainment Journalism Awards.
Devoted to increasing diversity and inclusion in the newsroom, Nic co-chairs LA Press Club's Foot in the Door Fellowship.
Giant Robot: Asian Pop Culture and Beyond
https://www.pbs.org/video/giant-robot-mzveco/
Chinatown Punk Wars
https://www.pbs.org/video/chinatown-punk-wars-xhb3rm/
East West Players: A Home on Stage
https://www.pbs.org/video/east-west-players-a-home-on-stage-xnwanj/
IMPORTANT DETAILS:
This panel will take place virtually over ZOOM. Ticket purchasers will receive a ZOOM link to this panel 2 hours before the published start time. If you don't already have the ZOOM app, please make sure to download on your device before the panel start time.
If you purchase a ticket for our November Festival events prior to the date of this panel, you will also receive admission to this virtual panel, included as part of your pass.
If you are a current Annual Member of NFMLA, please email info@nfmla.org to receive a complimentary ticket to this panel. If you are not an Annual Member of NFMLA and would like to join, you can become a member here.
Event has ended.