Speaker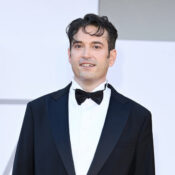 Alessio Della Valle
Film Director
Join NewFilmmakers Los Angeles (NFMLA) for a conversation with director and writer Alessio Della Valle, whose debut feature film American Night (starring Jonathan Rhys Meyers and Emile Hirsch) premiered last year at the Venice Film Festival and is now available on Hulu. Alessio will discuss making the transition from short to feature filmmaking, his career and experience in writing and directing, and the filmmaking process focusing on American Night.
About Alessio Della Valle
Alessio Della Valle is a screenwriter and film director. He was born and raised in Florence, Italy. At 17 years old he spent an entire summer as an "assistant fresco painter" for a cycle of three frescoes with Master Luciano Guarnieri, one of the most renowned frescoes painters of the world, whose international works are held at the Ford Foundation in New York. Alessio spent months on the high scaffolding near the ceilings of the tall church of Badia (Tuscany) designed by master architect Giovanni Michelucci. He learned a centuries old technique, the same one used by Michelangelo and all the great frescoes painters of the Renaissance, a craft that very few people in the world still know and practice. This extraordinary experience at such a young age had a strong influence over the young film maker.
He travelled the world extensively and by age 30 he had lived in over 10 countries. He is fluent in different languages. He holds a degree cum laude from Bologna University's DAMS and studied Theatre and Drama Studies at the Samuel Beckett Center, Trinity College, in Dublin, and studied Film Directing at the Los Angeles Film School, Hollywood, California. He also studied at the Music Academy of Florence. Alessio has worked as director for companies like: Fox, Mtv, Rai, Disney and has directed many commercials and music videos. Alessio directed the opera "The Girl of the Golden West" by Giacomo Puccini, performed live in Los Angeles. Alessio directed the experimental animated feature film (mixed technique: 2D, 3D, stop motion) called The Lamb Lies Down on Broadway (95′, HD) after the Genesis musical. Della Valle founded a new art movement and wrote its Manifesto "The Art of Awakening". The Manifesto has been published by UNESCO and the same publishing house of Futurism, Vallecchi. The first exhibition was held at the Uffizi Gallery in Florence. He plays several instruments and composes music for orchestra. He received a Honoring Proclamation from the Los Angeles, CA City Council on August 28 2007 as a Fulbright student for his work at PBS. He was Awarded the Fulbright Sergio Corbucci Scholarship in Film Directing. Winner of the RAI Crystal Microphone Prize (Premio RAI Microfono di Cristallo – Umberto Benedetto per la Radiofonia). RAI, the national Italian station awards Alessio for the Best New Idea for radio program. He served as Head of International of the Producers Guild of Italy. Does charity work, feeding the homeless. For this work he met with Pope Francis.

Exhibitions of his photographs and paintings were held in several European capitals, such as London, Rome, Prague, Budapest, Dublin, Paris.
American Night starring Jonathan Rhys Meyers, Emile Hirsch, Jeremy Piven and Paz Vega is his feature film debut which he wrote and directed. The World Premiere of American Night was held at the 78th Venice Film Festival.

The Academy of Motion Picture Arts and Sciences requested a copy of the screenplay to preserve it in its collection. The screenplay of American Night is now part of the permanent Core Collection, Margaret Herrick Library, of the Academy of Motion Picture Arts and Sciences.
Event has ended.
Buy Tickets