Join NewFilmmakers Los Angeles (NFMLA) for an engaging conversation with Leigh Kittay, Head of Film at Black Bear Pictures, moderated by Darrien Gipson, Executive Director of SAGindie. We will discuss film acquisitions and development in today's film industry, her experience working at the forefront of the independent film industry, and her experience at the boutique media company Black Bear Pictures, responsible for feature films I Care a Lot (2020), I Carry You With Me (2020), and The Imitation Game (2014).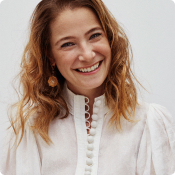 About Leigh Kittay:
LEIGH KITTAY joined Black Bear Pictures as Head of Film in 2020. Since the company's formation in 2011, Black Bear has grossed over $350 million worldwide, been nominated for thirteen Academy Awards®, nine Golden Globes®, and ten BAFTAs®, and launched its newly minted independent television arm, Black Bear Television, last year.
In addition to overseeing the company's active film slate, since joining the Black Bear team, Kittay has been integral in the ramp-up of content acquisitions and development for the film department, namely the recent acquisition of Pulitzer prize winning author Richard Powers' much-anticipated novel, Bewilderment.
The veteran executive, known for her knack for securing highly contested pieces of material and matching them with the most sought after talent, comes to Black Bear from her post as Head of Film at Noah Hawley's 26 Keys. There, she launched and ran the division for the Emmy Award Winning creator of "Fargo" and "Legion." During her tenure, Kittay grew the company, then known exclusively for television, into a thriving film company. She executive produced the Natalie Portman starring Lucy in the Sky for Fox Searchlight and paved the way for the company to take on the latest installment in Paramount's Star Trek franchise. Kittay built an enviable film slate with filmmakers including Hiro Murai, Ali Abbasi, Charlie McDowell, Edward Berger, and Issa Lopez. She discovered the short stories of Matthew Baker and helped make his writing some of the most sought after IP in Hollywood, including The Transition, which she set up at Amazon and Lost Souls at Searchlight.
Prior to 26 Keys, Kittay served as Vice President at Parkes+MacDonald Productions, acquiring and developing film projects including Keeping Up with the Joneses at Fox 2000, Rings at Paramount, and the Davis Guggenheim directed documentary He Named Me Malala at Fox Searchlight. She began at Parkes+MacDonald as a Creative Executive in 2011.
Kittay spent 5 years at J.J. Abrams's Bad Robot working on some of the most successful movies and television shows of the time including Mission: Impossible – Ghost Protocol, Super 8, Morning Glory, Star Trek, Cloverfield, "Lost" (ABC), and "Fringe" (FBC).
Her career in Hollywood began as a page at Paramount Pictures. She attended NYU's Tisch School of the Arts and was raised in New York. She lives in Los Angeles with her husband Eric and two boys, Theo and Miles.
Once you purchase a ticket, we will send you an email with ZOOM link. If you don't already have the ZOOM APP you can download it on your computer or phone.
If you are a current Annual Member of NFMLA, please email info@nfmla.org to receive a complimentary ticket to this event. If you are not an Annual Member of NFMLA, you can become one here: https://www.newfilmmakersla.com/membership/
After joining as an Annual Member of NFMLA, you can email info@nfmla.org to receive your complimentary ticket.
Event has ended.