Speakers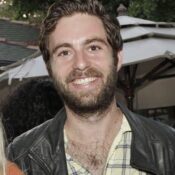 Dan Levy Dagerman
Director/Writer/Producer
Join NewFilmmaker Los Angeles (NFMLA) and Blackmagic Design for a conversation with director/writer/producer Dan Levy Dagerman, whose second feature Single Mother By Choice, a fictional feature which tracks his wife's real life pregnancy in 2020, premiered on HBO MAX last year. Dan will discuss his career in indie filmmaking, the story of his film's production with a limited crew, particularly during the COVID-19 pandemic in 2020, and the process of acquisition and streaming.
Single Mother By Choice was filmed with Blackmagic Pocket Cinema Camera 6K and finished with DaVinci Resolve Studio software.
About Dan Levy Dagerman
Dan is a filmmaker that received his MFA in Directing from the AFI Conservatory. Dan's second feature SINGLE MOTHER BY CHOICE, a fictional feature that tracks his wife's real life pregnancy in 2020, premiered on HBOMAX last year and went on to win Film Threat's Award This! for Best Indie Drama and Best Director of 2022. His first feature THE BEST PEOPLE won the Special Jury Prize at WorldFest Houston for Best Comedy and Best Supporting Actress, was sold worldwide by Shoreline Entertainment and acquired domestically by Samuel Goldwyn Films. He has produced several other award winning productions including OUR NEED FOR CONSOLATION (starring Stellan Skarsgård), REAL LOVE (starring Christy Romano), and SOLILOQUY, which have screened at festivals all over the world including Palm Springs Shortfest, Gothenburg Film Festival, Mill Valley. Dan is a partner in Two Hands Productions with his wife Selina Ringel.