Panelist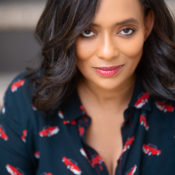 Tamika Lamison
Commercial Directors Diversity Program (CDDP), PhilmCO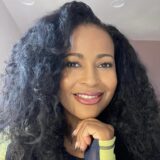 Camille Tucker
Sony Pictures TV Diverse Writers Fellow
Moderator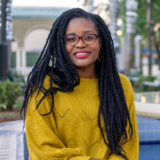 Kellianne Rae Jordan
Black TV & Film Collective
---
Join NewFilmmakers Los Angeles (NFMLA) for a virtual conversation with multi-hyphenate creatives Camille Tucker, writer/director/producer and Sony Pictures TV Diverse Writers Fellow, and Tamika Lamison, SVP of Development & Production at PhilmCo and Executive Director at the Commercial Directors Diversity Program (CDDP). They will discuss their continued partnership and mentorship over the years, as well as the changing landscape of the industry, diversity programs and what diversity means in the film and TV industry. They will also discuss advice for emerging creatives in directing, writing, and producing, such as making connections and creating your "tribe", taking meetings, giving and receiving notes, maintaining a work-life balance as a creative, and realizing your creative goals.
Sundance alum Camille Tucker hails from Compton, CA, where both her father and brother formerly served as mayor. She is co-writer of Lifetime's hit biopic The Clark Sisters: The First Ladies of Gospel, which was nominated for five NAACP Image Awards.
With an MFA in screenwriting from Loyola Marymount University, Camille has sold scripts to Sony, Universal, New Line, Fox TV and Disney and worked with producers Robert De Niro, Marc Platt, Debra Chase and the late John Singleton, who was a mentor and friend. In 2021, she was a Sony Pictures TV Diverse Writer fellow.
Currently, Camille is writing a biopic for LeBron James' Springhill Entertainment and Disney+, developing a TV pilot with 50 Cent's G-Unit and the Starz network and an EP/writer on the Gladys Knight limited series. She is a member of the Writers Guild of America, West and repped by Entertainment 360.
Tamika is currently serving as the SVP of Development and Production at PhilmCo (www.philmcomedia.com), a film company with a double bottom line of art advocacy and commerce. She is an award winning actor, writer, director, and producer who has produced/written/directed many shorts, features, and documentaries including: "Ferguson Rises", "Last Life," "Spin," "Hope," "The 3rd Era of Medicine," "The Male Groupie," and others. Her first script, "The Jar By The Door," was a Sundance Finalist and won several awards including IFP's Gordon Parks Indie Film Award. She was also the Director and DP on BET's first reality show, "College Hill." As a graduate of The American University and Howard University one of Tamika's biggest passions is giving back. She was a Research Consultant at the Academy of Motion Picture Arts and Sciences helping to develop their Academy Gold Program, before accepting a position as the Executive Director of the Commercial Directors Diversity Program (CDDP) in which she built an Inclusion & Diversity Program under the umbrella of the Directors Guild of America (DGA) and the Association of Independent Commercial Producers (AICP). Tamika also created and founded Make A Film Foundation (MAFF)- a non-profit that grants 'film wishes' to children who have serious or life-threatening medical conditions by teaming them with noted actors, writers, and directors who help them create short film legacies. Through MAFF, Tamika has produced several award winning short films and over 100 short documentaries with the most recent being, "The Black Ghiandola" directed by Catherine Hardwicke, Theodore Melfi, and Sam Raimi. Tamika was recently honored with the 'Trailblazer Award' from the Baron Jay Foundation for her various levels of impact and service in the entertainment industry. A list of honors and awards include: Cinema for Peace Award, ABC/Disney Fellowship in Screenwriting, AFI Directing Workshop for Women, CBS Directing Fellowship. Currently, Tamika is in her 3rd Season as Staff Writer and Supervising Producer of the Amazon Prime/UMC series "Monogamy". She is also pitching her Original One Hour Dramedy series, "B.E.E.S." which was a finalist for the Producer's Guild Power of Diversity Award.
Kellianne Rae Jordan is a producer, writer and award-winning actor with a desire to show the "artful" life of people of color in the diaspora through film, theater and events. Kellianne has produced a handful of indie films in South Florida that were accepted into festivals such as the Pan-African Film Festival, including the award-winning short film "The Park". She has also been involved in various theater productions as a producer, actor and writer, with local and national theater organizations. Kellianne has also produced and curated many events for nonprofits, businesses and individuals that connect art with service, community awareness and engagement. She recently received acknowledgement for Best Ensemble for acting in a play reading with National Black Theatre and Best Creative Coach with Black Girls Film Camp for coaching a Black teenage filmmaker through writing, producing and directing a short film.
As a writer, Kellianne was a participant in the WATZS Productions inaugural writer's room in 2021. She was commissioned to write a short play (Double Dutch) for "A Love Like This" by the Art Prevails Project; a theatrical event centered around telling uplifting, multi-faceted stories of love in the Black community. She is also a recipient of the 2022-2023 Phyllis Gebauer Scholarship in Writing and is currently attending the UCLA Writers Extension Program. Her latest film "Just Friends" is making the rounds in film festivals. She is honored to serve as Membership Coordinator for the Black TV & Film Collective supporting Black content creators as they make their work.