Panelist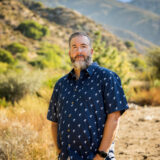 Gregory Evans
Narrative Editor/Director
Moderator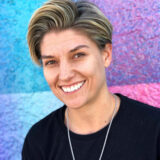 Tennessee Martin
Screenwriter
Join NewFilmmakers Los Angeles (NFMLA) for a conversation with longtime television editor Gregory Evans. We will discuss Greg's career journey with editing (and more recently, directing), as well as his experience editing for television and working on some of the most popular network and streaming shows, including Netflix's Bridgerton and Inventing Anna, ABC's Scandal, and the upcoming AMC show Dark Winds. We will also discuss his editing process and advice he has for emerging creatives in the industry.
This panel will be moderated by Tennessee Williams, screenwriter and recent finalist in the Starz #TakeTheLead Writing Intensive in partnership with NFMLA & NALIP.
About Gregory Evans:
Gregory T Evans journey into the entertainment world started in commercials, editing national campaigns for companies like Lexus, Six Flags and Wienerschnitzel. But the desire to tell longer stories drew Gregory to the Fox Network hour long drama "Prison Break." Since that time he's edited on various network shows, including "Private Practice", "Off The Map," "Scandal," and "Touch."
After years in the edit bay with some of the most powerful showrunners and producers in TV, in 2015 Gregory took a turn behind the camera, writing and directing the award winning short film, "Jack of All Trades." He followed that success with directing episodes of the ABC hit shows Scandal and Grey's Anatomy.
In 2019 Gregory ventured into the world of streaming, where he edited the first two seasons of "Bridgerton" along with "Inventing Anna," for Netflix and Shondaland media.
Gregory left Netflix to edit on the third season of the Apple+ series "Truth Be Told," starring Octavia Spencer and his most recent show, "Dark Winds" produced by Robert Redford and George R.R. Martin, will begin airing July 30th on AMC.
About the moderator:
Tennessee Martin is a queer and Southern screenwriter from a big family (1 of 10 siblings in fact) who studied Digital Film & Visual Art at Stephens College, the second oldest women's college in the nation. Previously, Tennessee has worked at Warner Bros., Starz, Apple TV+ and now Legendary TV. She's also worked on hit shows such as Lucifer on FOX, Training Day for CBS, and Family Crimes for Starz.
Tennessee was a finalist in the Starz #TakeTheLead Writing Intensive in partnership with NFMLA & NALIP. Her first macabre short film HANGRY directed by Bola Ogun won Best Horror at Toronto International Women Film Festival and Best LGBTQ in the Sydney Indie Shorts Fest and is available to screen on Gunpowder & Sky's platform, Alter. She is currently in post-production on her second short film, LESBOPHILIA, a dark comedy featuring Vico Ortiz, Maya Nalli and Lana Parrilla. The script for Lesbophilia is a semifinalist in the Oscar qualifying film festival, Holly Shorts.
Tennessee's southern gothic drama pilot Sutton Holler ranked #5 on the Golden List and #9 on the Red List in 2022, ranking in the top 1% on Coverfly. It was a finalist in both the ScreenCraft Action & Adventure and ScreenCraft True Stories & Public Domain screenplay competitions and won Best TV Script in the 2022 Diverse Writers Outreach in the Santa Barbara International Screenplay Awards. She is repped by APA.