Panelist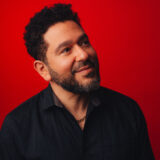 Jesse Atlas
Writer, Director
Join NewFilmmakers Los Angeles (NFMLA) for a conversation with director and writer Jesse Atlas, whose debut feature film ASSASSIN (starring Bruce Willis, Nomzamo Mbatha, and Dominic Purcell) is set to be released in theaters on March 31st, distributed by Saban Films. Jesse is an NFMLA alum, and the winner of our 2018 Best of NFMLA Award for Best New Filmmaker.
Jesse will discuss the transition from short to feature filmmaking, with some focus on his previous projects and on ASSASSIN, which was adapted from his short film LET THEM DIE LIKE LOVERS. He will also discuss his experience writing and directing in the industry, the filmmaking process, his focus on genre thrillers, and advice for emerging filmmakers.
About Jesse Atlas:
Jesse Atlas is a writer/director that crafts high-concept, character-driven genre thrillers. His feature debut ASSASSIN hits theaters in the spring of 2023. Previously, Jesse's mind-bending sci-fi short films RECORD/PLAY and LET THEM DIE LIKE LOVERS have played at Sundance, Tribeca, Fantastic Fest and countless other festivals, racking up dozens of awards and accolades. Both films were picked up for feature adaptations, with LET THEM DIE LIKE LOVERS evolving into ASSASSIN. Before making narratives, Jesse honed his skills as an editor of trailers, music videos, commercials, and documentaries.
Event has ended.