Panelist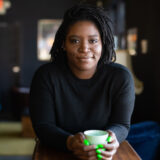 Charla Lauriston
TV Writer & Producer
Join NewFilmmakers Los Angeles (NFMLA) for a conversation with Charla Lauriston, TV writer, director, and comedian. We will discuss Charla's career and journey with comedy and screenwriting, her experience writing and producing for popular TV series, her filmmaking and mentorship experience, as well as advice she has for the next generation of TV writers and screenwriters.
Charla is an alum of NewFilmmakers LA, as her 2021 episodic short, Witchsters, was selected for our 2022 InFocus: Black Cinema program.
This conversation will be moderated by Varda Bar-Kar, filmmaker and member of the NFMLA Board of Directors.
About Charla Lauriston:
Charla Lauriston is a Vancouver and Los Angeles-based standup comedian, writer, director, and Lead Mentor at The Werking Writer School, a career-focused online course and community for new and aspiring screenwriters. Charla is the host of The Werking Writer Podcast and was most recently a Supervising Producer for Grand Crew on NBC. Previously, she wrote for The Last OG, Ghosted, People of Earth, Hoops, and others. Her 2021 episodic short, Witchsters, is the official selection of the 2022 Slamdance Film Festival, New Filmmakers Los Angeles, and the 2021 Austin Film Festival and American Black Film Festival.