Join NewFilmmakers Los Angeles (NFMLA) for a conversation with Erick Castrillon, screenwriter, director, and Adjunct Professor of Writing for the Screen and Television at USC. Erick has also been a writer on various television and film projects, as well as consulted on projects (recently consulted on Disney's Encanto).
We will discuss his career and work in the industry, as well as focus on writing, including the original inspiration that drives an idea forward, in addition to characters and their transformation, wants, and needs.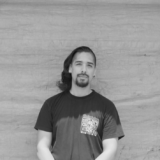 Erick Castrillon Writer/Director
About Erick Castrillon:
Castrillon is a Colombian-American screenwriter, director, and musician.
2021 – Present: Adjunct Professor of Writing for the Screen and Television at the University of Southern California.
2022: Staff Writer on "90 Minutos" — a television show produced by Peacock and Propagate described as the Mexican Ted Lasso.
2021: Script Consultant for Disney's Oscar winning animation film, Encanto.
2020: Writer and Producer of Blast Beat a feature film that premiered at the Sundance Film Festival, was picked up by Sony Pictures, and has been released in Hulu.
2019: Writer and Director of the short film, Hacienda Paraíso through the NALIP Latino Lens Incubator program.
2017: Writer at the Fox Writers Lab where he developed an original horror pilot.
2015: Writer of Vámonos, a short film developed at Film Independent's signature program, Project Involve. This short was hugely successful and went on to win many awards and is now published in the Criterion Channel
2015: Writer and Producer of short film, Blast Beat, which premiered at the prestigious Clermont-Ferrand film festival in France and went on to become a critically acclaimed feature film in 2020.
2014: Graduated MFA program at USC School of Cinematic Arts in Writing for the Screen and Television.
2014: Interned at Alexander Payne's production company, Ad-Hominem Enterprises.
Castrillon is represented by Carlos Bobadilla at Valor Entertainment Group.
IMPORTANT DETAILS:
This panel will take place virtually over ZOOM. Ticket purchasers will receive a ZOOM link to this panel 2 hours before the published start time. If you don't already have the ZOOM app, please make sure to download on your device before the panel start time.
If you purchase a ticket for our November Festival events prior to the date of this panel, you will also receive admission to this virtual panel, included as part of your pass.
If you are a current Annual Member of NFMLA, please email info@nfmla.org to receive a complimentary ticket to this panel. If you are not an Annual Member of NFMLA and would like to join, you can become a member here.
Event has ended.