Partners
SCHEDULE
Shorts Program #1
6:00PM Pre-screening Reception
6:30PM Short Film Screenings
7:50PM Post-screening Q&A
Short Program #2 – InFocus: LGBT Stories of Love
7:30PM Pre-screening Reception
8:15PM Short Film Screenings
9:20PM Post-screening Q&A
Shorts Program #3: InFocus: LGBT Stories of Struggles & Conflict
9:00PM Pre-screening Reception
9:45PM Short Film Screenings
10:50PM Post-screening Q&A
Location:
Event Entrance
1139 S. Hill Street, Los Angeles 90015
Directions
Parking
1133 South Olive Street, Los Angeles, CA 90015
Directions
NewFilmmakers Los Angeles is proud to present another month of incredible independent film talent. Join us on Saturday, June 24th, as we start the night with an eccentric film program. We are screening five short films that cover a wide range of narratives from a lonely girl trying to find her voice in the world to a 100-year-old woman rebelling against her aging daughter's demands.
Our next program of the night presents the 1st of 2 InFocus: LGBTQ Cinema Film Programs. This shorts program focuses on stories of love, connection and reconciliation by both local filmmakers and international talents from China and Brazil.
Closing the evening is the second LGBTQ shorts program that revolves around conflicts of identity, community and family. This program's stories include a serial killer on the hunt for love, millennials who decide to get their lives together after one last night of debauchery and four misfits who make the world their stage.
These 2 shorts programs illuminate a wide range of the LGBTQ experience, contrasting with the common one-dimensional portrayals of LGBTQ characters. These emerging directors give more representation to the LGBTQ community by humanizing their characters and relating them to their audiences.
Throughout the event, attendees will have opportunities to mingle with the filmmakers, industry supporters and film lovers with an open bar at the filmmakers' lounge adjacent to the private entry of the South Park Center's 500 seat theater in Downtown Los Angeles.
Shorts Program #1
[video_lightbox_youtube video_id="e9gvkHl6RaY" width="640″ height="480″ anchor="https://www.newfilmmakersla.com/images/program/2017/Jun/LTP_T.jpg"]
Long Term Parking
[video_lightbox_youtube video_id="6QpxzY3Kw5c" width="640″ height="480″ anchor="https://www.newfilmmakersla.com/images/program/2017/Jun/TL_T.jpg"]
The Letter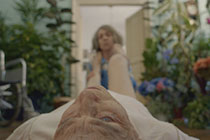 The Beast
Writ. & Dir. Daina O. Pusic
Time: 21 Mins. – Croatia/Finland

» Film Synopsis
» Media Kit
[video_lightbox_youtube video_id="MzwLXx9mqUo" width="640″ height="480″ anchor="https://www.newfilmmakersla.com/images/program/2017/Jun/TLW_T.jpg"]
The Lonely Whale
Writ. & Dir. Sophie Tabet
Time: 10 Mins. – USA

» Film Synopsis
» Media Kit
[video_lightbox_youtube video_id="Z68Dh1mZLAc" width="640″ height="480″ anchor="https://www.newfilmmakersla.com/images/program/2017/Jun/AB_T.jpg"]
About the Boy who ate an Oakwood Chair
Writ. & Dir. by Pieter Goethals
Time: 29 Mins. – Belgium

» Film Synopsis
» Media Kit
Short Program #2 – InFocus: LGBT Stories of Love
[video_lightbox_youtube video_id="XCM5RQgRib4″ width="640″ height="480″ anchor="https://www.newfilmmakersla.com/images/program/2017/Jun/CO_T.jpg"]
Cocoon
Dir. Liying Mei | Writ. by Xu Zhang & Liying Mei
Time: 25 Mins. – China

» Film Synopsis
» Media Kit
[video_lightbox_youtube video_id="gUi1cfLCPo4″ width="640″ height="480″ anchor="https://www.newfilmmakersla.com/images/program/2017/Jun/OTL_T.jpg"]
Outside The Lines
[video_lightbox_youtube video_id="aTvnldjrRvA" width="640″ height="480″ anchor="https://www.newfilmmakersla.com/images/program/2017/Jun/SI_T.jpg"]
SIGN
Dir. by Andrew Keenan-Bolger | Writ. by Adam Wachter
Time: 15 Mins. – USA

» Film Synopsis
[video_lightbox_youtube video_id="zYREO6kvASo" width="640″ height="480″ anchor="https://www.newfilmmakersla.com/images/program/2017/Jun/TW_T.jpg"]
Two Women
Dir. by Marcelo Brennand | Writ. by Anna Carolina Francisco & Marcelo Brennand
Time: 15 Mins. – Brazil

» Film Synopsis
» Media Kit
Shorts Program #3: InFocus: LGBT Stories of Struggles & Conflict
[video_lightbox_youtube video_id="UpEpNrMotGc" width="640″ height="480″ anchor="https://www.newfilmmakersla.com/images/program/2017/Jun/TWS_T.jpg"]
The Was
Writ. & Dir. by Tui Asau
Time: 22 Mins. – USA

» Film Synopsis
» Media Kit
[video_lightbox_youtube video_id="zZr6Dp-Tu-A" width="640″ height="480″ anchor="https://www.newfilmmakersla.com/images/program/2017/Jun/DM_T.jpg"]
Demons
Writ. & Dir. by Jesse Klein
Time: 12 Mins. – USA

» Film Synopsis
» Media Kit
[video_lightbox_youtube video_id="FSmUN8KtRwc" width="640″ height="480″ anchor="https://www.newfilmmakersla.com/images/program/2017/Jun/GA_T.jpg"]
Garbage
Dir. Tayler Robinson | Writ. Arne Gjelten & Tayler Robinson
Time: 14 Mins. – USA

» Film Synopsis
» Media Kit
[video_lightbox_youtube video_id="j10goTDgER0″ width="640″ height="480″ anchor="https://www.newfilmmakersla.com/images/program/2017/Jun/GB_T.jpg"]
Good Boy