Community Collaborator

SCHEDULE
Shorts Program #1
4:30PM Pre-screening Reception
5:00PM Screening
6:13PM Post-screening Q&A
Feature Program
6:29PM Pre-screening Reception
7:00PM Screening
8:38PM Post-screening Q&A
Shorts Program #2
8:54PM Pre-screening Reception
9:25PM Screening
10:30PM Post-screening Q&A
Location:
Event Entrance
1139 S. Hill Street, Los Angeles 90015
Directions
Parking
150 W. 12th Street, Los Angeles, CA 90015
Directions
Join NewFilmmakers Los Angeles (NFMLA) in celebrating independent cinema and Black History Month on February 24th. The night's first program will be an assortment of short films that include tales of dealing with loss, a superhero with one unique power, a biopic of a late German filmmaker, and the premiere of Kyle Bornheimer's short comedy, The Talk, which grapples with the question of when to give up on one's dreams.
Second in the night will be a presentation of feature film Good After Bad by director Anne-Marie Hess, the story of a troubled young girl who crosses paths with an eccentric bachelor, starring Maddie Hasson and Billy Burke.
The finale of the evening will be InFocus: Black Cinema, a program which will spotlight five short films that include a vignette of Nina Simone, the story of a young woman in Senegal finding her voice through rapping, a community coming together to protect itself from police brutality, and the story of an overly confident understudy starring comedian and SNL writer Gary Richardson.
Throughout the event, attendees will have opportunities to mingle with the filmmakers, industry supporters and film lovers over complimentary drinks & cocktails in the premium reception room at the South Park Center in Downtown Los Angeles.
Tickets are only $5 for single film programs and $15 for all films with open bar for 7+ hours! Get them now before it is too late!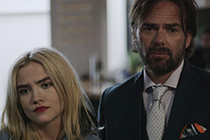 Good After Bad
Dir. Anne-Marie Hess
Time: 98 Mins – Country: USA
Film Synopsis
Media Kit
Shorts Program #2 – InFocus: Black Cinema Shorts