NewFilmmakers Los Angeles (NFMLA) spotlights stories from Developing Nations and a selection of works by emerging local and US filmmakers, in partnership with the film commissioners' association Film Liasons In California Statewide (FLICS).
The night begins with a powerful shorts program highlighting stories set in or about communities from developing nations, made by filmmakers who are either local to or intimately familiar with those communities. The themes in this program span the collision of worlds and cultures, the evolution of family dynamics, and the powerful bond between humans and the natural world.
Second in the night is Lonely Hearts Club, the feature directorial debut of award-winning director and NFMLA alumni Jason O. Silva. Three lives converge in this exploration of love and loss during a long flight layover in Los Angeles, starring Camille Guaty (Daytime Divas, Scorpion, Las Vegas)
The evening concludes with a shorts program offering a selection of surreal and comedic films that bring their own takes to topics including heartbreak, xenophobia and superstition, challenging us to look at them with fresh eyes.
SCHEDULE
Shorts Program #1 – InFocus: Developing Nations
4:00 PM – Pre-Reception
4:30 PM – Shorts Program #1
6:00 PM – Audience Q&A
Feature Program
6:15 PM – Pre-Reception
6:45 PM – Feature Program
8:15 PM – Audience Q&A
Shorts Program #2
8:30 PM – Pre-Reception
9:00 PM – Shorts Program #2
10:30 PM – Audience Q&A
Location:
Event Entrance
1139 S. Hill Street, Los Angeles 90015
Directions
Parking
1133 S Olive St, Los Angeles, CA 90015
Directions
Shorts Program #1 – InFocus: Developing Nations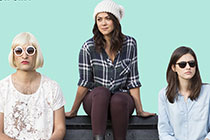 Lonely Hearts Club
Dir. & Writ by Jason O. Silva
80 Mins | USA
Film Synopsis
Media Kit